S. M. Engineers
» Soft Starters
Soft Starters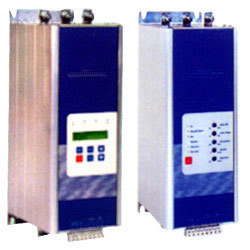 We are manufacturers and suppliers of soft starters which is a general purpose AC motor soft starter industrial package. It provides a complete and effective AC motor starting and protection solution with it's GPH starters built for ruggedness and reliability. These are designed for simple and fast installation and start-up, requiring only input power and output motor connections. The use of superior quality raw material makes the entire range more desirable.

Applications:

Pumps

Fans / Blowers

Conveyors

Compressors

Agitators

Crushers

Saws

Features of Soft Starters
5 - 150HP at 230V and 10 - 300HP at 460V

Wall mount enclosure suitable for dusty, wet or outdoor applications

Circuit breaker with door mounted operator provides built-in short circuit protection and input power disconnect

Automatic bypass contactor

Fused Control Power Transformer (CPT)

Start and Stop Pushbuttons and Run and Fault Pilot Lights on the front cover

Terminals for 2 or 3 wire remote Start/Stop

Keypad with protective cover mounted on enclosure door

All parameter changes are through the cover-mounted keypad.

Dust and water stay out of the enclosure.

Monitoring of current, voltage, kVA and kW can be done from the outside.

AC3 rated bypass contactor and motor overload relay is standard on 5 - 30HP / 230V and 10 - 75HP / 460V

Optional Features:
Keypad mounted inside enclosure

No circuit breaker

Legs for free standing enclosure

AC3 rated bypass contactor with motor overload relay

575V units are available.

©
Copyright
2023. S. M. Engineers, Delhi, India