S. M. Engineers
» Oil Immersed Auto Transformer Starter
Oil Immersed Auto Transformer Starter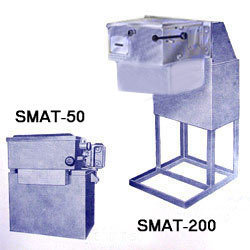 We have gained the trust and appreciation of our valued clients as a reliable manufacturers and suppliers in India of Oil Immersed Auto Transformer Starter which are manufactured by our experts using premium quality raw materials and components at our facility in Delhi. Our range of hand operated oil immersed auto transformer starters is compact, totally enclosed with gasketted joints. The entire range is made of top-quality raw material and is available at very economical prices. The team of professionals ensure that the starters are well finished and perform smoothly.

Our range includes:

Fully automatic auto transformer starters upto 600 HP 550V (275 HP Type Tested from ERDA Vadodara.
Manual auto transformer starters upto 200 HP 550V
Any other voltage can be supplied on request.

Features Oil Immersed Auto Transformer Starter
Case and lid are of MS sheet thus suitable for use in places demanding a robust apparatus.
In case thermal overload rely is required it can be supplied on request.

Adjustable magnetic type overload protection with oil dash-pot type time lag device provides insurance against motor burnout.

Are designed for ordinary duty

Standard trappings' are provided at 50%, 60% and 80% of the line voltage

Correct sequence device rendering it impossible to put the handle into the "Running" position without going through the "Start" position.

Tripping by push button fitted on the unit.

Remote stopping is possible by push button station or any other tripping device—for which the no-volt terminals are brought out.

Provision for fitting an isolator — interlocked with the unit—so that opening of the unit is not possible till the isolator is made "Off".

Padlocking arrangement for isolator.

Cable sealing boxes can be supplied for under-

Ground paper insulated cables hence suitable for PVC cable entry.

Can be mounted on unit type bus bar chambers to form a switchboard.

SM AT 50 units can be wall-mounting as well as floor-mounting types. AX-45 is floor-mounting type only.

The unit has the provision for fitting one instrument directly on itself. For more than one unit, an instrument panel is provided.

Floor stand can be supplied as an optional item.

©
Copyright
2017. S. M. Engineers, Delhi, India